1.  What is your relationship with the breed? When did you get your first Flatcoat?
Ammis bought her first Flatcoated retriever 2004 from Annika and Tom Rölander at Hinnared´s kennel whom we understood was breeding working Flatcoated Retriever. That bitch was probably too good for us as beginners, and we would have loved to have her with us today. 
After one year I was fed up on throwing dummies to her and her dog 😊 and bought a 1-year old bitch also from Hinnared. This bitch had some issues which we today are very grateful about, since we were stubborn enough to try and fix all issues despite that it would be hard to bring her up to a champion. We learned a lot from our first dogs and in year 2010, we bought two new puppies from Hinnared´s and one of them became cold game champion and FTW during 2016. 
We have today three Flatcoated Retrievers where the two last once were picked up from Henna Mikkonen at Allikon kennel in Finland who had interesting pedigrees on working Flatcoated Retrievers. This year we also overtook Ammis´ parent´s kennel (originally for another breed) and will have the first litter with working Flatcoated Retrievers in "Isatorpets" Kennel during 2018.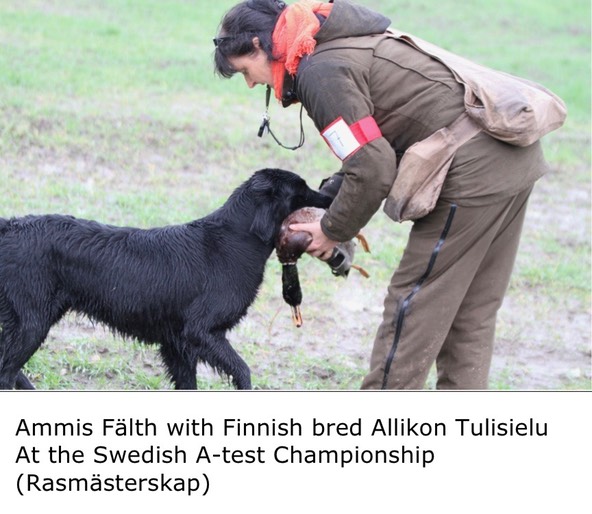 2.  What do you like the most in a working Flatcoated Retriever?
A flat is always happy, love to train and work, and are lovely to have around also at home. In work, they are resistant to all kind of weather and can hunt independently.
3.  What abilities do you look for when you are breeding a working Flatcoated Retriever
We will predominantly look for game finders, still with will to please or actually will to work together with the handler.
4.  What could be done to promote the Flatcoat as a field trial/working test dog?
Cooperation among breeders to maintain the standard needed to develop the Flatcoated Retriever as a gun dog. Arrange test Field trial to attract new handler to dare test field trial – and see that it works. Promote Flatcoated retriever championship on warm game to attract more handlers to join. Arrange Flatcoated retriever's championship on cold game. Acknowledge good results from working Flatcoated retrievers.
5.  How does a working Flatcoat excel as a picking up dog?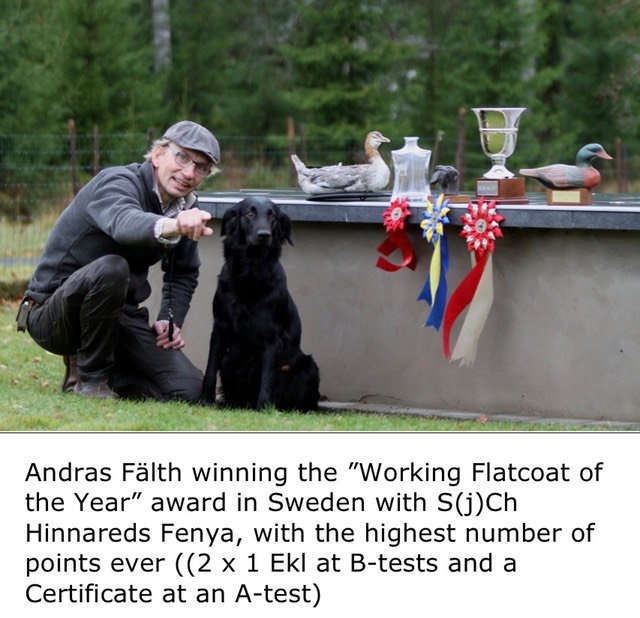 Excellent picking up dog since they have the strength to work in any environment, they can work independently and they are excellent markers.
6.  What's important to emphasize when training a Flatcoated Retriever?
Take it easy from start and then finding "the key" - They have its own personality and are not always easy to convince. I believe the Flatcoated retriever is more thoughtful than other retrievers so avoid training with too many repeats. If you manage to have some patience, and you learn how to train the specific dog, you have a fantastic hunting and competition companion.