"My first Flatcoat was born in 1975. I was looking for a Labrador puppy at the time but there was a three-month waiting list for them. I saw an advert about Flat Coated Retrievers in a Helsinki Newspaper and got the last puppy in the litter. I did not see any other puppies to compare with, because Mollyfer was the last one kept in the kennel and I did not know anything about her parents. The dam of the litter was jumping against me and at that moment I decided that my dogs would never be allowed to do that.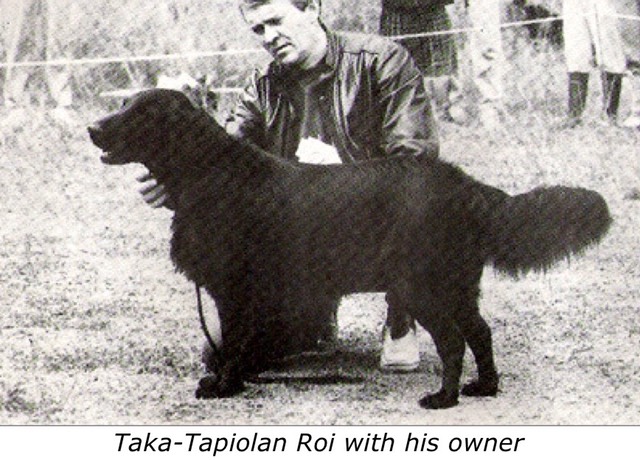 To begin with Mollyfer was meant for shooting but I bought my first shot gun at a later occasion. I went to obedience training which was meant for utility dogs like German Shepherds. I listened to the instructions and trained her mainly for obedience. In those days methods were quite tough, and dogs were forced to obey. Today some of these methods seem weird. At home I was very strict with her and later with my other dogs. I believe that strictness is the basic thing that has led me to success.  You can't really be floppy with them as determination is the key word to success. I have always known where my training is heading to and at home I have been single-minded with them. Dogs need to know their own place and they cannot do what they want. Consistency in everyday life is the key.
The first year is mainly used for testing the pup and to encourage the inherited skills. At about one year of age I start to train obedience and to challenge them a bit. A bit later, when they are having their health checked to evaluate if they're physically fit for breeding, I make the decision to keep them and start training for Cold game tests and Working tests.
I quit tests when we have shown what we can, I really don't have any competitive instincts. My latest bitch, Taka-Tapiolan Manta, quit the working scene at the age of three when she had shown what she can: a 1:st at an Elite Class Cold Game Test, 2 x 1 at Elite Class Working Tests (one with a certificate) and a 1:st price at an unofficial A-test (Field Trial).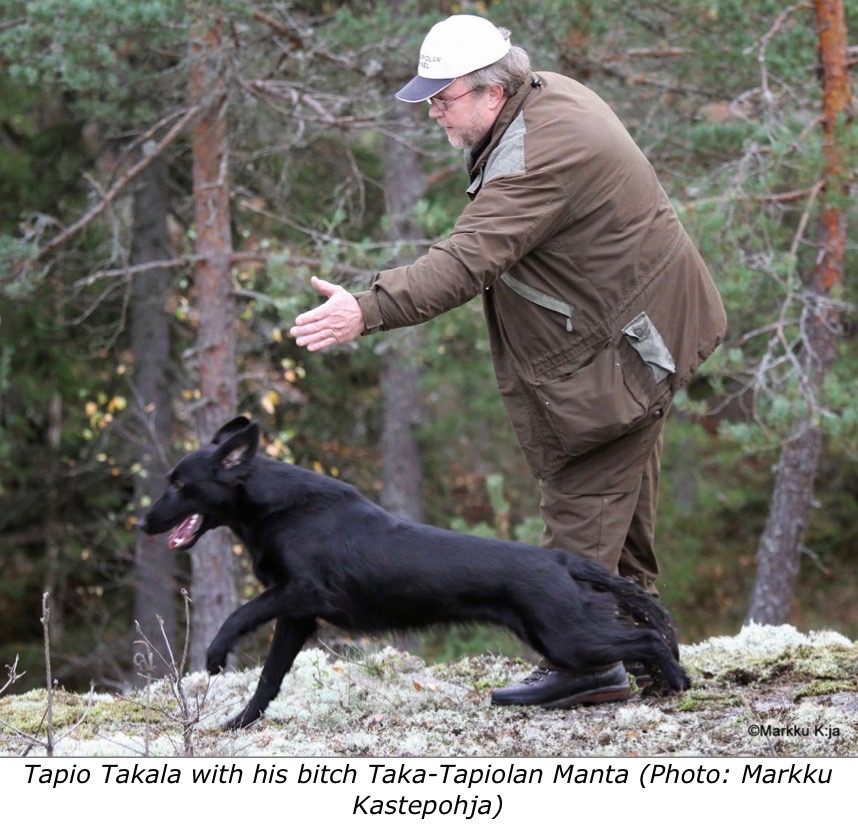 FI CH, FI & SE JCH Taka-Tapiolan Pikifer was my best bitch for shooting purposes and her mother Mollyfer was the best possible bitch as the foundation bitch for my working gundog kennel. For seven consecutive generations I have kept the same bitch line and each generation have been successful. I have absolutely had more luck than skills. In 1995 I got my first German Short-Haired Pointer and decided to quit the working Flatcoat scene. Taka-Tapiolan Merisilja was returned back to me and I continued breeding. At the moment I don't have any Flatcoats at home but just three German Short-Haired Pointers and a working Labrador on trial, but I've had no luck with them.
I've bred several Flatcoats for others being very successful at tests and for shooting purposes during these 40 years, I couldn't put any of these before the others. But anyhow, I want to mention the highly merited FI V-84 FI UCH FI JCH Taka-Tapiolan Roi. There have been several dogs with the Taka-Tapiolan prefix over the years which have been excellent shooting dogs but lacking results from tests.
I am pleased to say I'm a lucky breeder. As an example, the four best ones at the Finnish Flatcoated Retriever Championship in 2016 carried the Taka-Tapiolan prefix, out of three different litters.