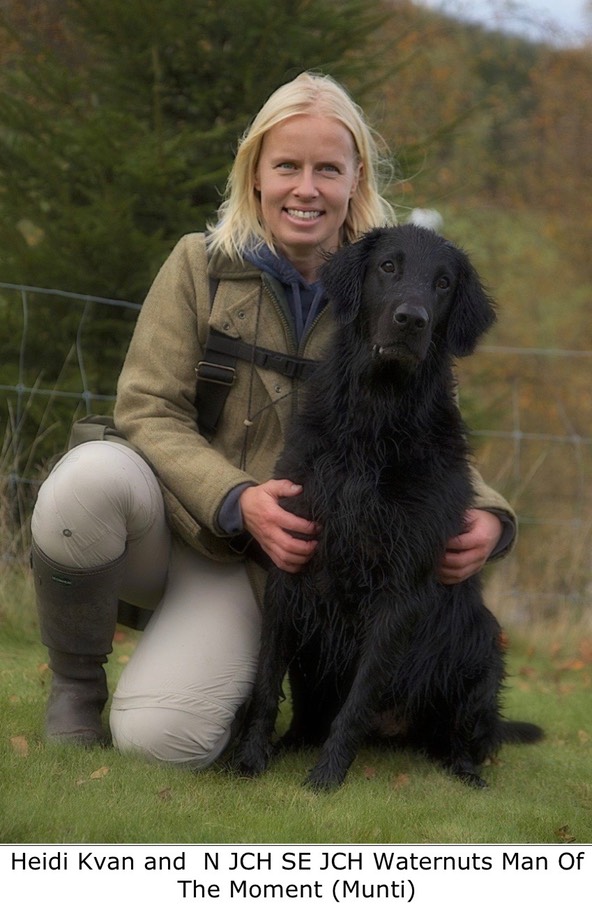 1. What is your relationship with the breed? When did you get your first Flatcoat?
I've got my first flat in 1987, a bitch sired by Benito (N UCH Exclyst Kestrel – Ki-Ro-Ma's Edelweiss), and had my first litter in 1990 where I kept a male, N JCH Waternuts Just Call Me Batman, sired by INT UCH Black Bowie. From 1997 my husband, Bjarne, joined the kennel. Over the years we have had a few litters, but all in a small scale. Our dogs today are all descendants of N JCH S JCH NMJR-07 Duckstream Cragganmore that was brought into the kennel in 2002.
2.  What do you like the most in a working Flatcoated Retriever?
Their stile, personality and attitude to work 
3.  What abilities do you look for when you are breeding a working Flatcoated Retriever
Early maturing, trainability, drive, calmness, will to please.
4.  What could be done to promote the Flatcoat as a field trial/working test dog?
I think the breed will promote itself by showing good individuals at trials and tests. The question is how to get our dogs in that position. I don't think it's a simple answer to that, it will always depend of the influence of breeders, trainers and clubs. 
5.  How does a working Flatcoat excel as a picking up dog?
They are strong dogs working tirelessly in tough terrain. Excellent markers.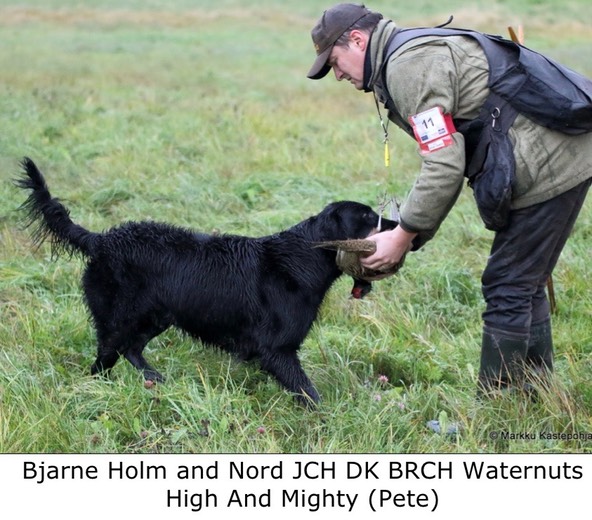 6. What's important to emphasize when training a Flatcoated Retriever?
I don't think you must train them differently than other breeds, it all comes down to be thorough with the basics and use the first years wisely, building a strong fundament. Let the abilities and skills develop through training, don't wait for the dogs to grow up, because they never will J
Heidi Kvan og Bjarne Holm
Waternuts flatcoats