1. My relationship with Flatcoat Retrievers is of a professional trainer. Over the years I have gained a lot of knowledge of the breed. I have never own one but enjoy the breed. My first contact was in 1974.
2. What I like most about the breed is the movement when they hunt. When watching a quality dog move gives me pleasure.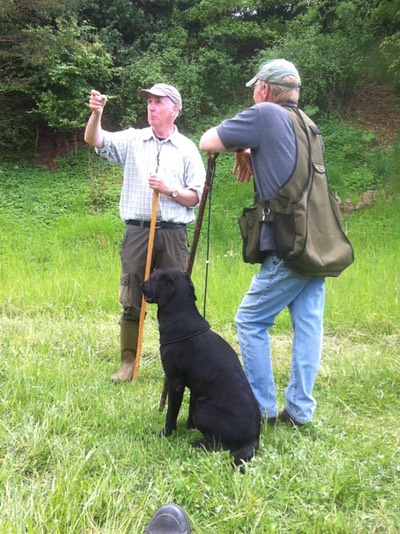 3. I have never bred Flatcoats but like all breeds temperament is so important to me. I like soft nature and hard in there work. This means, easy to put on the whistle and to be handled but hard enough to persist in hunting.
4. I have over the years try to give direction to owners how to step up from working tests to FT's as there is a big difference. I have enjoyed some success seeing a good friend win with his dog against some very good Labradors.
5. I was lucky in my early day to share time with in my a pinion the best handler of Flatcoats ever,  Major Harry Wilson. We picked up together in Shane's Castle in Co Antrim N Ireland. To watch his dogs work on runner was a pleasure. I think this there strength.
6. I am of the opinion that all breeds should be trained the same. Making no excuses of the breed of the dog. I would say the big mistake in all breeds is being introduced to soon to group training. This can contribute to whining. 
Bobby Robertson training class.
The best trainer of Flatcoats I have ever met was Major Harry Wilson. 
Harry was a very quiet man who handle Flatcoats with grace. Well before his time and could hold his own easily with modern day top handlers. 
I first met him in 1974, I contacted him about picking up with my first Labrador. He was very kind and invited me to pickup in Shane's Castle shoot. 
When I arrived at the shoot I seen he had flats. They were so under control in a quiet way. Over the years I got to know Harry. I learn a lot by watching him work his dogs.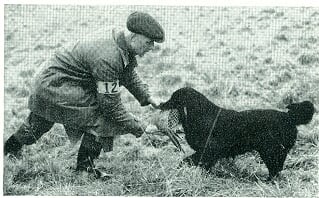 I didn't realise he had won the Irish retriever Championship with his bitch. This was Harry never shouted about his success in the gundog world. People of the time reckon this was the best Flatcoat ever. To the Irish championship with a flat was a tremendous achievement. Sadly Harry could not get her into pup. I know this sadden him.
If Major Harry Wilson had been English he would be a legend in the Flatcoat world and in my eyes he is. Simply the Best.
I hope this is of interest to the Flatcoat world and of help. 
Best Regards Bobby ❤️                                                            Major Harry Wilson and Int. Ft. Ch. Hartshorn Sorrel