1.   What is your relationship with the breed? When did you get your first flatcoat?
I met a Flatcoated Retriever for the first time on a visit to my godmother when I was fourteen, it was love at first sight, I can still remember that dog, Fleur, clearly.  Two years later my parents after constant nagging from me my parents got one, I have had them ever since.  The next two came from Hilary Hughes who has the Atherbram line, I bred from Kernewek cum Pigeon and the dogs I have now are descendants of her's by various devious routes.  I also got my first field trial awards with her, she was very special.
2.  What do you like the most in a working Flatcoated Retriever?
I love their beautiful elegance, game finding ability and joy in their work.
3.  What abilities do you look for when you are breeding a working Flatcoated Retriever
Speed and style, biddability, good nose, boldness and, of course, beauty.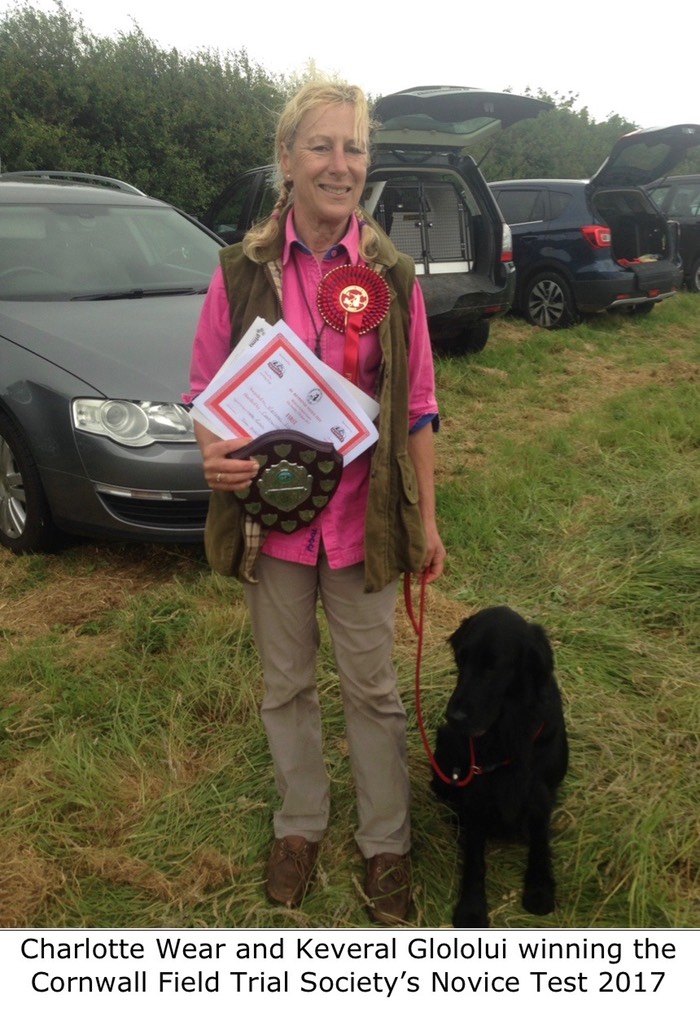 4.  What could be done to promote the Flatcoat as a field trial/working test dog?
I believe the biggest help to promoting competing with Flatcoats would be more owners doing it, I believe it is a numbers game to a certain extent.  I always strongly encourage my puppy buyers to do so.
5.  How does a working Flatcoat excel as a picking up dog?
Their exceptional game finding ability.  (And the fact so many people admire them)
6.  What's important to emphasize when training a Flatcoated Retriever? 
It is important to be patient and kind, always make training fun.  It is so easy to "flatten" a Flatcoat's enthusiasm by trying too hard and being too serious.  In recent years I frequently end training sessions with a ball chasing game, letting all the dogs run free competing to get the ball.  I finish off by getting them all to sit and have a controlled retrieve, just to remind them how it should be done!  I think this little exercise has done more to improve their style and way of going than anything else I have tried.